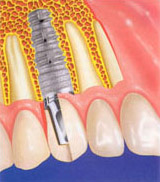 Implants – as secure as your own teeth!
For not having to make any compromises when suffering from smaller or larger tooth gaps or agomphiasis, implantology makes up one of our most important services emphasizes out of the whole variety of treatments offered within the clinic. In implantology, a root made from titanium is placed in such a way that a long term and resilient connection to the jawbone is created. Those placed Implants should then last at least as long as regular dentures.
Common procedures
Teeth are being polished and bridges are being placed. The lack of several teeth, especially at the end of a row of teeth, makes the successful integration of a stable bridge as impossible as in the case of a complete lack of teeth. The common solution for these types of problems usually entails the removable full or partial dental prosthesis made from synthetics.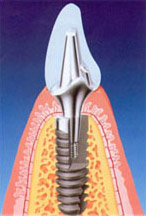 Our service options
In case of free - standing spaces, the missing tooth can be replaced, without grinding the often - healthy surrounding teeth when integrating a bridge. This way, healthy tooth substance will remain. In case of larger teeth spaces or spaces located at the end of a row as described above, one or several implants will provide replacement for placing a strong and reliant bridge to the remaining row of teeth.
In case of all teeth being missing in both mandibular and maxillary, implants can help us connect full artificial rows of teeth with the jaw in a strong and long lasting way. This type of treatment provides both aesthetic but mainly functional benefits compared to the removable prosthesis.
Processes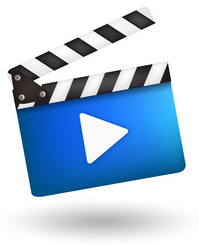 Video abspielen
For placing an implant into the jaw, a small surgical treatment is necessary. Depending on the personal preferences of the patient, this can be implemented using local anesthetics or in cooperation with the anesthetics team in the form of analgosedation or the application of general anesthetics. The implant and the connected pillar consist of high-purity titanium.
Informations-Video abspielen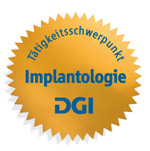 Deutsche Gesellschaft für
Implantologie (DGI)
A metal that is especially known for its exceptional compatibility. This entails that the implant will be of long last, while at the same time minimizing the risk of unknown allergically reactions. The build - up of the tooth is carried out either by using metal that is completely mantled with ceramic or solely using ceramic. Through this, not only can the missing tooth be replaced, but almost become perfectly copied.