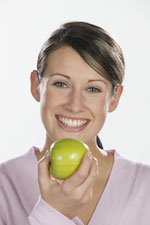 Beautiful and healthy teeth – professional teeth cleaning with us
You want beautiful and healthy teeth - for a lifetime? Our professional prophylaxis program helps you achieve it. It complements your daily intensive dental care routine.
Beautiful teeth are "in". Wherever you go, you meet people who do not just have beautiful teeth, but also love to shows them off. Our comprehensive health and wellness program offers you a variety of ways to get aesthetically beautiful teeth.
Professional tooth cleaning
Through the gentle removal of tartar, other stubborn deposits and discoloration with powder-water-jet devices and polishes, we provide smooth and clean tooth surfaces, to complicate a renewed spread of bacteria. The so-called "fissures" on the chewing surfaces of your teeth, will also be intensively cleaned and protected with fluoride varnishes or gels against acid- forming bacteria. In addition, a fissure – sealing - treatment provides optimum protection against caries.
Bleaching
If your teeth have lost their seductive pearl shimmer, it is no reason to forget how to laugh. We'll get you and your teeth to shine again. With exactly matched rails, you can easily reach your individual perfect colour nuance at home .We are however glad to perform this intensive whitening treatment in our clinic.
Experts know more! Our specially trained prophylaxis team can give you advice with any questions you might have.