Oral surgery is one part of dental care and compromises both diagnostic and treatment of infections in mouth and jaw areas. Our operational spectrum is made up of surgical treatments, which can be carried out under the use of local anesthetics or general anaesthesia.
Surgical removal of wisdom teeth
Removal of displaced teeth
Tooth transplants and replantation
Surgical periodontitis treatment
Lip and tongue frenulum correction
Removal of jaw cysts
Implantology
Naturally people always have mixed feelings when it comes to surgical treatments. With us, you will be well informed before treatment, due to an in - depth preliminary talk where we provide you with behavioral guidance for pre - and post - surgical treatments. For further information on this topic, please read our guide on:
Behavioral Guidelines After Surgery.
Wisdom teeth
Wisdom Teeth can be seen as the "unknown" back teeth. They develop late in life (therefore the name) and break through as the last ones of all adult teeth. Because of the jaw becoming smaller during the process of further evolution, those additional adult teeth don't always have room to fit.
Around the age of 20, many people develop "crowding" in the area of the mouth where their front teeth are located, usually the mandibular. The wisdom teeth, while fighting for their space in the dental arch, continue to put pressure on the remaining side teeth and start moving those further to the front of the arch and therefore cause the mentioned mandibular crowding.
Wisdom teeth, which remain inside the jaw, can cause problems, especially if the tooth is only coming half way out of the gingival. This makes it hard to clean the tooth, which can cause infections. Caries, teeth displacements as well as root damages can also occur. Cysts are also known and feared complications. Those fluid- filled hollows often grow unnoticed and damage the surrounding tissue, including the jawbone.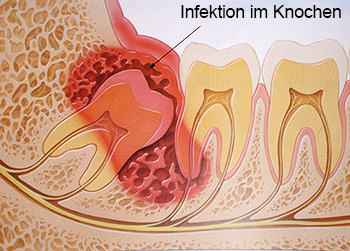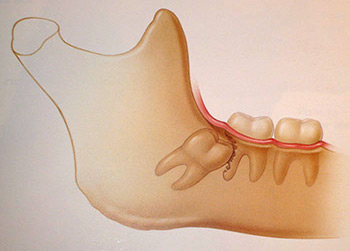 With the help of radiographs, position and growth direction of the tooth can be estimated. If problems are already visible at this stage, due to prophylactic factors, it is advisable to carry out a surgical removal of the wisdom teeth. This will prevent a continuation of teeth crowding and resolve the lack of space within the mandibular. When removal of the wisdom teeth is planned for, a surgical removal is more desirable than the removal of the partially broken tooth at a later stage.
The surgical treatments is carried out free of pain, either with the use of local anesthetics or general anaesthesia. After the operations, patients have to plan in minor restraints for up to two to three days. Within this time swellings, pain or potential problems when opening the mouth can occur.